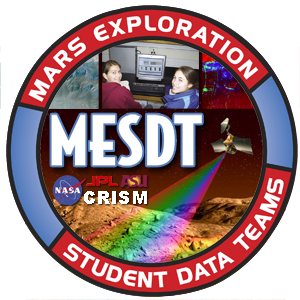 What is the Mars Exploration Student Data Teams?
Through the Mars Exploration Student Data Teams (MESDT), students (high school through college) join with Mars scientists to analyze real data from Mars. NASA and Arizona State University's Mars Education Program is offering students nationwide the opportunity to be involved in authentic Mars research by participating in the Mars Exploration Student Data Teams (MESDT).
Teams of students in high school through college will have the opportunity to work with scientists, mission planners and educators on the collection and analysis of data as it is downloaded from instruments currently orbiting mars.
Overall, the goals of MESDT are to:
Expand the opportunity to perform authentic Mars research with high school students;

Provide education and outreach to as broad an audience as possible;

Include as many diverse groups as possible;

Take student-directed research to the next level.
There is no charge to participate in MESDT!
Students involved in MESDT will be working during the mission operations associated with the Mars Reconnaissance Orbiter. As far as the instrument we would be working with, it is CRISM (Compact Reconnaissance Imaging Spectrometer for Mars) on board the Mars Reconnaissance Orbiter, currently orbiting Mars. Some of the tasks student groups would be responsible for:
Work during mission operations, analyzing real Mars mission data.

Be responsible for specific exploration topics (i.e. polar caps, high latitudes, volcanic regions, MSL landing site locations, Phoenix lander location, etc.)

Retrieve current information from datasets (THEMIS, MRO, MER, etc.).

Watch for predicted flyovers of MSL and Phoenix lander sites, or similar lander sites (geomorphology), by Mars Odyssey, or MRO.
National Science Education Standards-aligned MESDT curriculum has been developed to assist the lead adult facilitators of student teams. The curriculum is designed to fit within existing science curriculum and teach the already required objectives and standards using real world science instead of worksheets or simulations.